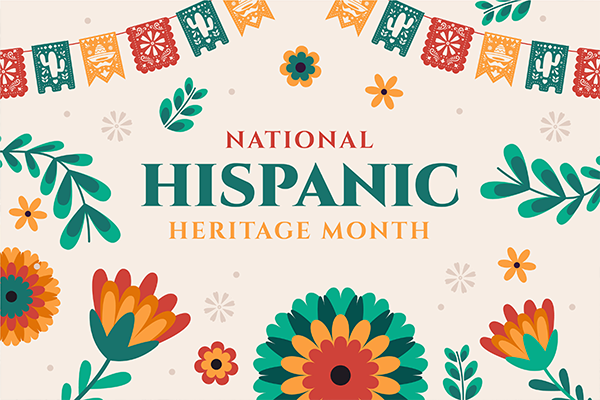 Check out the events offered on campus and throughout the city celebrating National Hispanic Heritage Month, which runs through Oct. 15. Here on campus, programming is in the works presented by the Organization of Latin American Students, the International Multicultural Center, and more.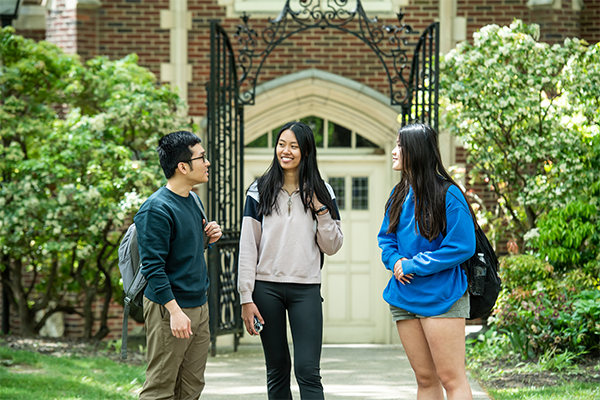 La Salle recently placed in a variety of national rankings including landing in the top tier for economic mobility. Read more.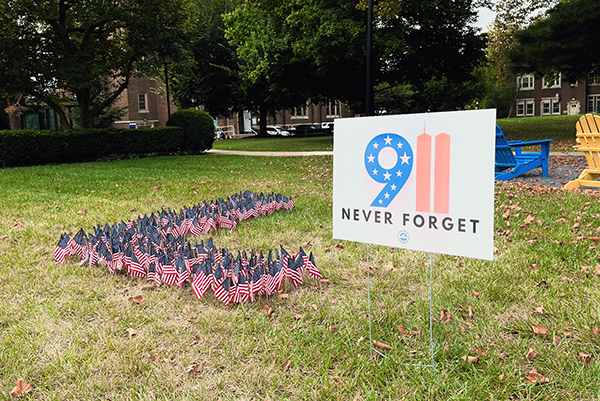 Remembering September 11
The La Salle Student Government Association honored the profound sacrifices made 22 years on Sept. 11, 2001, with an American flag memorial on the Hansen Quad.
Celebration of the Solemnity of Saint Vincent de Paul
On Sept. 27, the Basilica Shrine of Our Lady of the Miraculous Medal (500 E. Chelten Avenue) will celebrate the Solemnity of Saint Vincent de Paul. There will be a special performing arts group from Italy called Gen Verde and a beautiful and lively mass at 6 p.m. directed toward young adults. Donations of new socks and gloves will be accepted. Light refreshments will be served after Mass. All are invited.
Featured events
Month of Welcome
Now through Sept. 30
Continue to connect with the University community through a variety of fun campus-wide activities. Check out the full schedule.
Mass
Sunday, 5 p.m.
Celebrate the 25th Sunday of Ordinary Time with Mass at De La Salle Chapel.
The Drepung Gomang Monastery Tour at La Salle University
Sept. 25-29, 9 a.m.-5 p.m. daily

Monks will visit from the Derepung Gomang Monastic University in Karnataka, India and provide authentic Tibetan programs that blend of ancient cultural, religious, and artistic expressions. Enjoy a schedule of activities held at the Art Museum including the Opening Ceremony on Sept. 25 at 10:30 a.m., introduction to meditation on Sept. 28 at 1 p.m., and the Closing Ceremony on Sept. 29 at 1 p.m.

Philadelphia's Neighborhoods: Remaining Resilient and Thriving
Sept. 26, 5-7 p.m.
Philadelphia Mayoral Nominee Cherelle Parker is the keynote speaker for this event discussing citizens' work to maintain sustainable and resilient neighborhoods.
The John Henry Newman Lecture Series
Sept. 27, 6:30 p.m.

This series of lectures showcases prominent academics, intellectuals, and civic leaders presenting new perspectives on salient issues confronting society. Listeners are encouraged to think critically and engage in civil dialogue. This month Joe Loconte presents Is Western Civilization Worth Defending?
QuietFest
Sept. 29, 4-9 p.m.
The University will host Depaul USA's first QuietFest event. Enjoy guided meditation and yoga sessions, food and drink vendors, a live performance by Paul McDonald, and silent disco set by the Armentani Brothers. Proceeds will go to Depaul USA's fight in ending homelessness. Register here.
Antiracist Pedagogy: Bringing Diversity, Inclusion and Equity
into La Salle's Classrooms
Oct. 5, 12:30 p.m.
This Explorer Café session will feature members of La Salle's faculty and staff as they exhibit to the community of learners how they can empower others to integrate antiracist practices into their syllabi and across the curriculum.